Who's watching you work?
Published: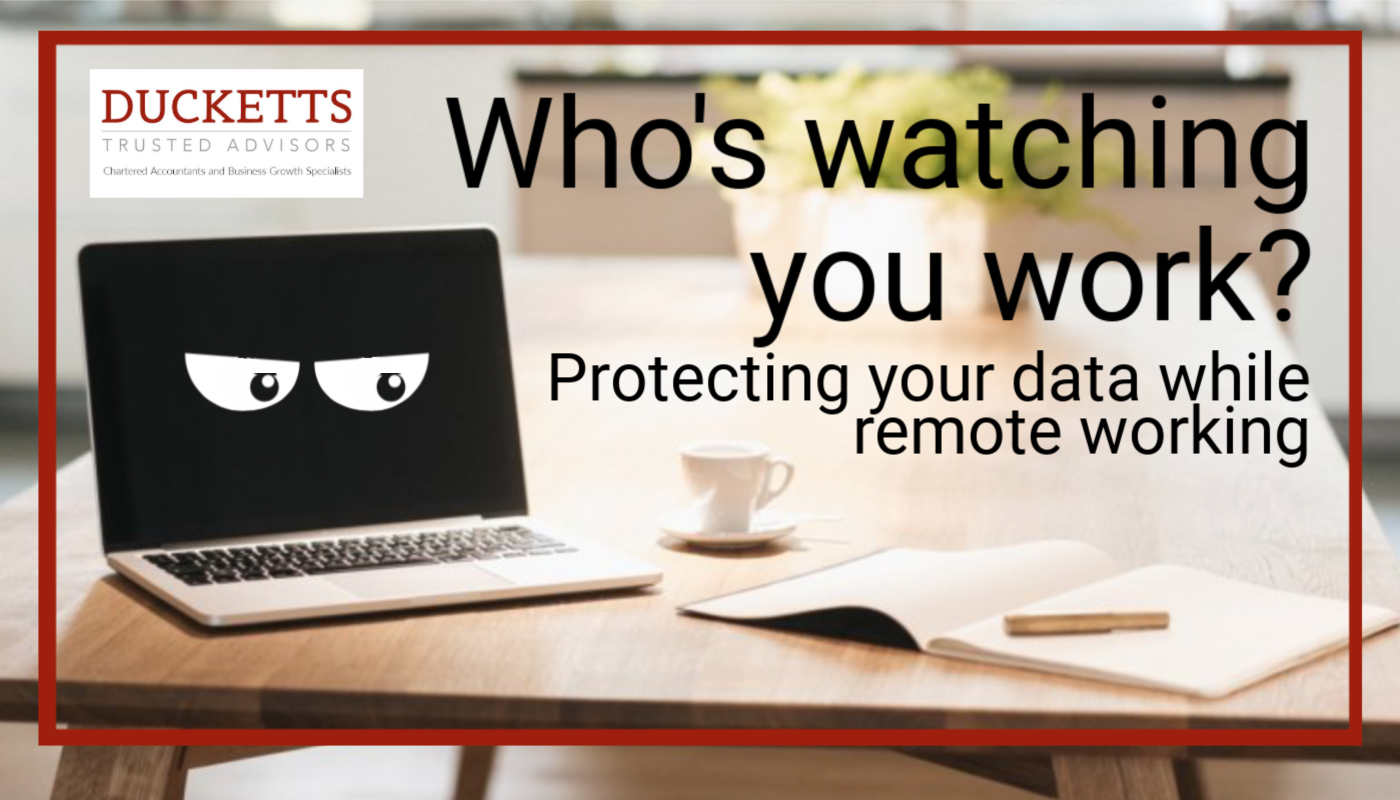 How to protect your sensitive corporate data while remote working.
The importance of employee security awareness has only been reinforced by the increase in cybercrime experienced during global lockdown.
The transition to mass home working over the past month or so has offered little time for companies to formulate secure remote-working policies. However, even as employers are starting to look at reopening their offices, working from home is set to be the 'new normal' for many employees for some time to come.
Statistics from UKFast.co.uk show that more than half of IT and security professionals are concerned about the safety of accessing their corporate networks from outside the office. With that in mind, below are a few ways in which your business can optimise security for remote workers.
1. Secure remote-working setups
Regardless of how your team connects digitally to the office, the process of employees accessing resources needed for the working day must be secured. Crucial steps are:
Limiting the need for employees to take data and files outside of your office network by setting up a formal, secure remote connection such as remote desktop or VPN access – as well as obligatory communication channels designed for business use.
Ensuring all devices used are equipped with basic protection such as antivirus, antimalware and host-based firewalls, where possible. For more information on how viruses and malware can infect and compromise your computer, see our blog post HERE (insert blackmail blog link)
Considering additional firewall configurations to allow your office network to cope with an increase in external traffic from employee devices (if using a VPN).
Implementing intrusion detection and intrusion prevention systems (IDS/IPS) within your office network to further protect against malicious traffic.
2. Implement zero-trust policies
Zero trust assumes that threats are present both within and outside of your organisation's network. It is a crucial aspect of securing a remote–working setup. Core principles of zero-trust architecture include:
Adopting the principle of least privilege when managing user access. Each member of your team is only given access to files, folders and drives which are essential for their role. This reduces the number of people with access to business-critical information and the number of entry points which attackers can target.
Segmenting office networks into zones, with highly sensitive information separated from widely available resources and only available to specific user groups.
Using multi-factor authentication (MFA) to ensure that only verified users successfully connect to your office network.
Employing software which allows the management of remote devices, such as mobile device management (MDM), to form a base level of security which all devices must meet before their connection is permitted.
3. Prevent data loss
As we've seen with a lot of businesses recently, the rush to maintain normal levels of collaboration across teams now working outside of the office often leads to using unsecured communication channels and this can result in data loss. UKFast recommends implementing a data loss prevention (DLP) strategy. This is a key step to maintaining data protection policies within the office and beyond. Without a DLP policy in place, your business risks data loss or a data breach if sensitive or personally identifiable information is compromised.
Three steps to follow are:
Establish DLP and secure communication policies within your remote working strategy.
Select a channel of communication which allows customisation of policies to suit your security and compliance needs.
Mandate the use of the approved channels to avoid insecure data access and sharing.
4. Maintain compliance
Compliance strategies are often built around office working and may not consider employees or devices leaving the safety of the company premises. If your business does not consider how industry standards will be maintained throughout a remote–working scenario, you risk unintentional non-compliance.
Some practical steps for maintaining remote working compliance include but are not limited to:
Continuous management and review of security policies
Restricting user access to only necessary resources
Implementing a formal remote-access policy
Providing online security awareness training
Implementing secure 'bring your own device' (BYOD) policies
5. Raise employee awareness
As a new wave of cybercrime takes hold, thanks to COVID-19 clickbait and incorrectly configured remote-working setups, employee awareness must be a top priority within your team. Employees only need to download an infected attachment, click a malicious link, or give attackers one piece of information they need to compromise the security of your entire organisation.
Many businesses regularly run phishing campaigns to test the competency of employees.
Consider asking your mail server manager to run a phishing campaign. While we don't advocate trying to trick your employees, these tests assess the ability of your team to identify and report suspicious emails, links and attachments. Anyone who fails the test – clicks on a malicious link, inputs credentials and so on – can be provided with further training to improve their awareness.
Providing official documentation outlining how your team can follow security best practices, wherever they are, also helps. This should cover:
Securing home Wi-Fi networks by replacing default credentials and enabling privacy settings
Locking devices when they're away from their screen
Ensuring monitors do not face a window
Encouraging the use of strong passwords and password manager tools, while discouraging password sharing and reuse
6. Protect against cyber-attacks
With a dependence on online communications part and parcel of remote working, attackers have really taken advantage of unsuspecting employees via clickbait phishing emails and highly personalised, fake messages intended to steal user credentials and business data.
Phishing attempts, malware and ransomware continue to be the most significant threats facing remote working teams at user level. Google's Threat Analysis Group reported a 350% increase in phishing emails from January to March 2020, with 18 million COVID-related malware and phishing Gmail messages detected per day in April.
Following the advice above can help protect you, your business and your team from cybercriminals.
There's never been a more critical time to review and improve your business' security strategy.
As lockdown measures continue to change and evolve on a weekly basis, remote working is fast becoming not just a short-term tactic, but a long-term strategy for businesses across the world. We'll be continuing to support our customers in whatever way we can as we emerge into the 'new normal' over the coming months.
If you would like more information on how Ducketts Trusted Advisors can help your business navigate the Covid-19 crisis, give us a call on 01432 370572 or email martyn@chrisduckett.co.uk
Adapted from an original article by Charlotte Greene for ukfast.co.uk