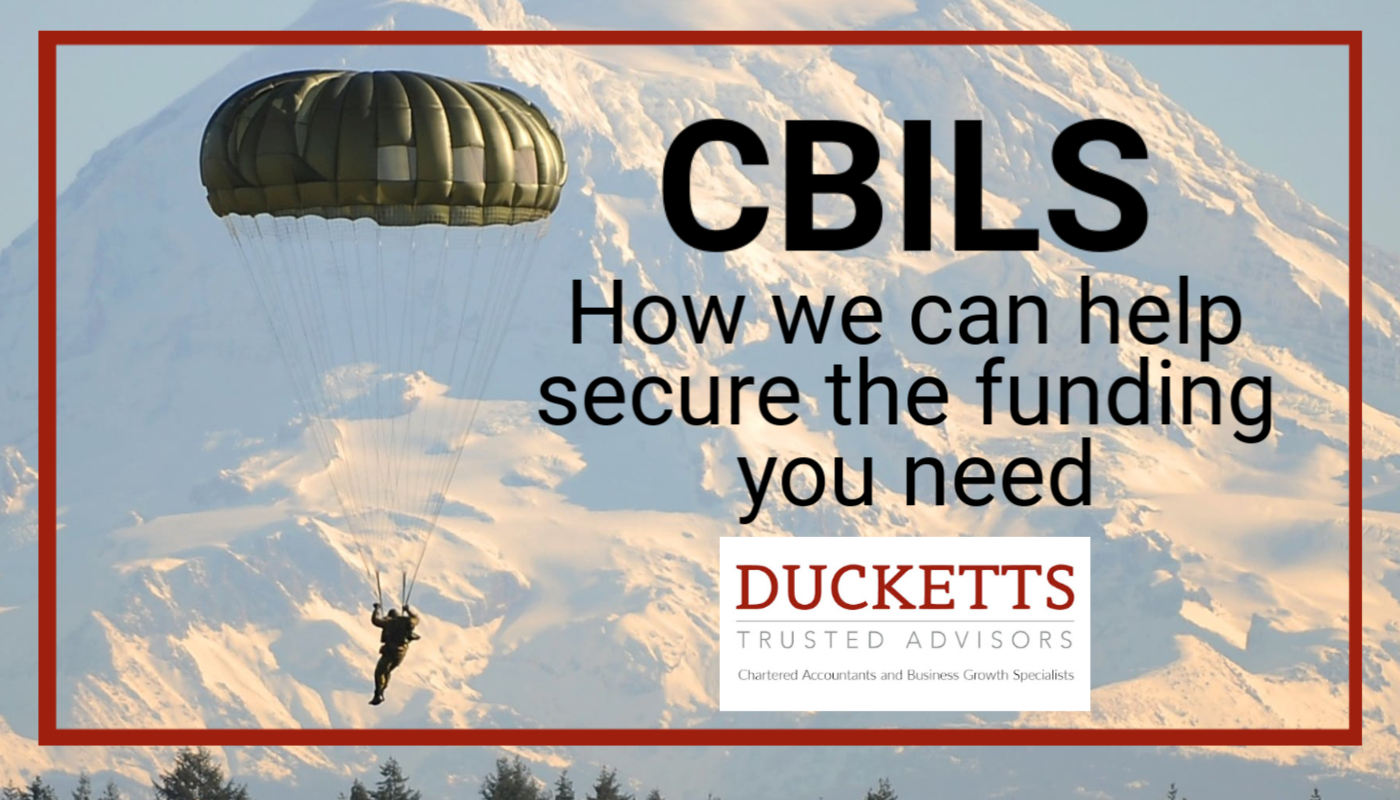 How we can help secure the funding you need
WHAT IS CBILS?
The Coronavirus Business Interruption Loan Scheme (CBILS) was announced by the Chancellor in his March budget, to help SME businesses deal with the issues caused by Covid-19. The scheme can provide loans of up to £5 million for SME businesses, experiencing lost or deferred income, resulting in cashflow pressures.
HOW DUCKETTS CAN HELP
We always work very closely with our clients' bank managers, but never more so than now with the problems being presented by Coronavirus. Much of this work has been centred around CBILs applications and to date, we have a great success rate across all the High Street Banks.
The reasons for this success are:
EXPERIENCE. Within our great team at Ducketts are ex-bankers, because of this we know what information banks need, but more importantly how they want it presented. This ensures a right-first-time approach.
DETAILED AND ROBUST FORECASTS. We will prepare forecasts from the information that you provide us, with detailed assumptions and stress testing. We will discuss with you the likely postponement of income and how overheads can be reduced. Most importantly, we will demonstrate the viability of the business to give the bank comfort that the loan repayments will be satisfactorily met.
ADDITIONAL GOVERNMENT SUPPORT. We will ensure that your plan includes the other business support schemes provided by the government including the Job Retention Scheme, VAT deferral, Time to Pay, grants where appropriate and rates relief.
TIME. You have many things to consider currently. Using Ducketts means that your time is maximised in managing the other aspects of your business and developing your strategy for when restrictions begin to be lifted.
IN SHORT, WE CAN HELP YOU NAVIGATE THE PROCESS SUCCESSFULLY.
WHAT INFORMATION DO WE NEED?
If you need some help with your CBIL, Ducketts are happy to assist and will undertake an initial assessment of the likelihood of an application being successful.
To complete the initial review, we will need the following information:
The last 2 years accounts for the business.
The latest management accounts.
Aged debtors and creditors.
The original budgets for the current trading year.
Any revised forecasts that you have prepared.
A schedule of all loans and HP agreements.
The review will include a video conference call to discuss the review with two of our team.
HOW MUCH WILL THIS COST?
We understand that this is a very stressful time for business owners and we want to help. To do so, we need to remain viable and will need to charge for our service, to cover our costs. The fee will be dependent upon the amount of work that we need to undertake and this will be agreed between ourselves before we commence.
WHAT NEXT?
We will be delighted to discuss this in more detail and in the first instance please contact
Martyn Wright on either 07598 890019 or martyn@chrisduckett.co.uk